Resources
See my list of recommended resources below, these are the tools I use to bring you the highest quality content and run my business.
Disclosure:  Please note that some of the links below are affiliate links, and at no additional cost to you, I will earn a small commission if you make a purchase. I have experience with all of these products and/or services, and I recommend them because they are useful to me. Please do not spend money on these resources unless you feel you need them or that they will help you achieve your goals. Like always, spend your hard-earned money wisely.

Simply put, this camera rocks and it makes me feel like a… "PRO!" I can use it on land, under water, mount it to my head, hat, chest, or virtually any other surface. It's great for recording HD wide angle videos while I'm moving around and/or using my hands to demonstrate something. It's hard to believe something so robust and powerful can fit inside my shoe (that's how I pack it when I fly). I can do time-lapsed photography or take still photos too. Oh, I did I mention it comes with a Bluetooth remote control? 5 stars…
Click here to see a video I recorded with my GoPro!
FYI: This GoPro camera works only with a microSD card, preferably "class 10", and it's sold separately. Here's the card I use (64 GB). It allows me to record 1080 video for almost 5 hours!
E-mail
Aweber is an email service that allows SLF to stay connected via email to the SLF community. I use Aweber to design autoresponders, make important announcements about SLF, and grow a direct connection to those interested in staying in touch with SLF. If iTunes, WordPress, and Youtube all disappear one day, I'll be glad that Aweber allowed me to build a platform-independent way to communicate with my SLF community. Aweber has Word Press plugins that make adding email sign-up forms to your WP website a breeze.

Start Your Free Trial Today
Website Design
Thrive Themes and the Thrive Content Builder reduced my anxiety about my website/post/page design from 95% to 1.025%. Sure, it costs $147 yearly for access to all of their themes, the Thrive Content Builder, plugins, etc., but the sleek appearance, clean feel, and conversion-ability of my multiple websites is well worth it. I got soooooo tired of the inflexibility of "free" WordPress themes. Once my online ambitions grew, I researched multiple premium themes, and Thrive was a "no-brainer."  Even though I know HTML and CSS, the speed and ease of the drag-and-drop Thrive Content Builder is the 80/20 when it comes to creating attractive pages that convert. Check out one of my sites [ SustainableLifeFitness.com ] to see how I use the "Minus" Thrive Theme.
"Behind the scenes" video coming soon.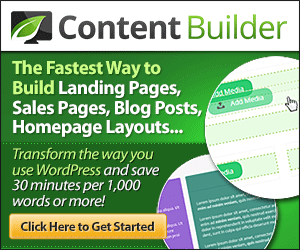 Web Hosting
iPage is the host I use for all my websites. I started out with zero knowledge of computer languages, but figuring out how to get my site up and running with iPage and a 1-click WordPress install was a breeze.
Web.com is the company I use to host some of my clients' websites. Web.com is easy to use and they offer custom services such as marketing, domain registration, e-commerce store templates, etc. They will even build a website for you!


Media Hosting
"Liberated Syndication (libsyn) pioneered the system to host and publish podcasts in 2004. And since then has grown to the largest leading podcast network with over 1.6 billion downloads, 10,000+ podcasts delivered to more than 18 million monthly audience members in 2011. Our iTunes expertise in podcasting and Smartphone apps is the basis for world class tools, service and support." -libsyn.com/overview
More resources to come…